The coronavirus pandemic is reshaping education and we're witnessing a new evolution in the making. Addressing what comes next, MES's PCER, Chembur in collaboration with MIT-ADT University School of Education & Research organized a Free Live Webinar, on 'Reshaping Education in the New World – Pandemic Effect' on 1st May, 2020.
Mrs. Vimla Nandakumar, Chairperson, Shakti Girls Education Trust, was the speaker for the morning session. She focused on the role of a teacher in the classroom and how teachers can be effective. Dr. Mangesh Karad, Executive president of MIT ADT University and the Trustee and secretary of the School of Education. According to Dr. Mangesh, there are a lot of positive changes happening due to covid-19, which is a good part of covid-19. Dr. Mangesh shared his views on the nature of jobs post Covid-19.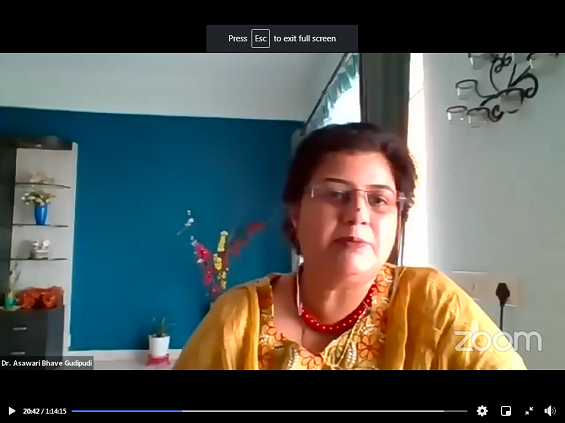 Mrs. Laxmi Kumar, Founder Director, Pragya Niketan Education Society & The Orchids International School, Pune.Dr. Kumar focussed on how we can steer the Paradigm shift due to Covid-19 in the coming days, months and years as the effect of this will remain there for a long time.
She urged the need to redesign or re attempt for a new curriculum. She spoke about the need to understand the new normalcy. As a part of it, she shared 7C's to focus. These 7C's are Curriculum, Continuous, Context, Connect, Communicate, Campaign and Commit. Thus Dr. Laxmi elaborated the 7C's Model in relation to the paradigm shift.
Ms. Hiromi Willigham, Psychotherapist and certified Hakomi Practitioner from the USA. She started her session with breathing exercises and she focused on the importance of having mindfulness to fight with the Pandemic Drama- Covid-19. We educators need to know the impact of covid-19 on people,like denial, anger and fight over it and later on people are anxious and start to feel grief about and later people settle with it.
There were several questions from the participants like how to prepare teachers/ what need to be done to adapt to the situation etc. The resource persons answered it and advised the participants to continue learning and use time wisely. Overall, the webinar was very effective and received an overwhelming participation across the globe