In collaboration with University of Mumbai, Thane Sub Campus, PCER, Chembur organized a Webinar via YouTube Live on the topic 'Effective Leadership Skills Post Covid-19 Pandemic'. The three day webinar on 27th, 28th and 29th April, 2020 was hosted by Principal Dr. Reni Francis.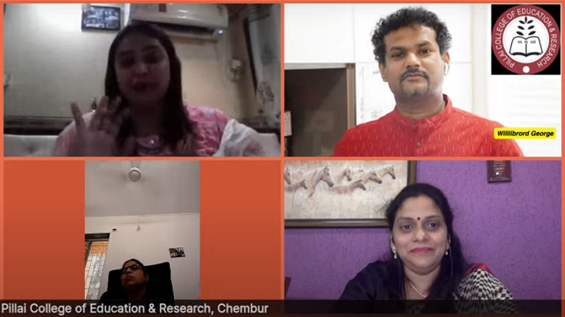 Day 1: Mr. Willibrord George and Dr. Antara Sonawane: Mr. Willibrord George and Dr. Antara Sonawane were the speakers for the first day of the webinar. Mr. Willibrord George, the Director of St. Willibrord Group of Schools, began the session with an immensely fresh and thought-provoking perspective about leadership strategies that need to be adopted in the changing times post the Covid-19 pandemic. He stressed on the fact that a leader, at such a dynamic time, has to be a good researcher and provide robust information for his team to follow through in action.
Dr Antara Sonawane, Vice Principal, KPB Hinduja College of Commerce is an accomplished orator. She spoke about effective leadership skills post COVID-19 pandemic .She said we have to really understand the emotional state of teachers and everyone in the institution .The VUCA environment which stands for volatility, uncertainty, complexity and ambiguity has to be replaced with vision ,understanding, clarity and agility.
Day 2: Dr. Priam Pillai: Dr. Priam Pillai, the COO of MES was the speaker for the second day of the Webinar and he raised some very pertinent points. He pointed out that this was the time to focus on the impact that we, as an institution are having not only on our stakeholders i.e. the students and teachers but also on the immediate community around us.
Day 3: Dr. Swaroop Sampat and Dr Ashok Pandey: The session on the third day of the webinar commenced with an introductory talk by Dr. Swaroop Sampat, Actress, Research Scholar and Life Skills Expert. Dr. Swaroop observed that with respect to leadership the three important qualities in a good human being are empathy, effective communication and self- awareness. During this period of pandemic and lockdown, people are going through a lot of anxiety and stress and leaders should therefore be more empathetic in their interactions with their team. She also stated that leaders need to develop creative thinking to navigate through this difficult period.
Dr. Ashok Pandey, Chairperson, GCED and Director of Ahlcon Group of Schools Delhi, focused on the ethical aspect of effective leadership skills and provided a compassionate and wise perspective on what is expected of a leader during challenging times such as the one we are going through presently. He stated that the four pillars of ethical leadership are love, care, unity and synergy.
Day 1 Link: https://www.youtube.com/watch?v=3s-JtooMVlI
Day 2 Link: https://www.youtube.com/watch?v=jdZJUHwRIus
Day 3 Link: https://www.youtube.com/watch?v=3dhfsLzaAro