1st October, 2022 saw Pillai College of Education and Research wear a look of excitement as post class tests, F.Y.B.Ed students got ready for a dual celebration of Mahatma Gandhi's birthday and Navratri. The hosts Miss Neha and Mr. Deepak set the mood for the assembly as they introduced the event with a touching quote by Gandhiji, "You must not lose faith in humanity. Humanity is an ocean; if a few drops of the ocean are dirty, the ocean does not become dirty." Gandhiji let his light shine through the values that he propagated throughout his life. And what better start could there be to the special assembly, dedicated to him than by lighting the lamp, by the professors. This was followed by invoking the presence of the divine as Miss Cheryl led the audience in prayer. Next Miss Amrita helped us all reflect on the thought of the day and Miss Amelia dwelt upon Gandhiji's teachings through a speech which encompassed the life of Gandhiji. All these thought provoking activities kept the audience riveted to their seats.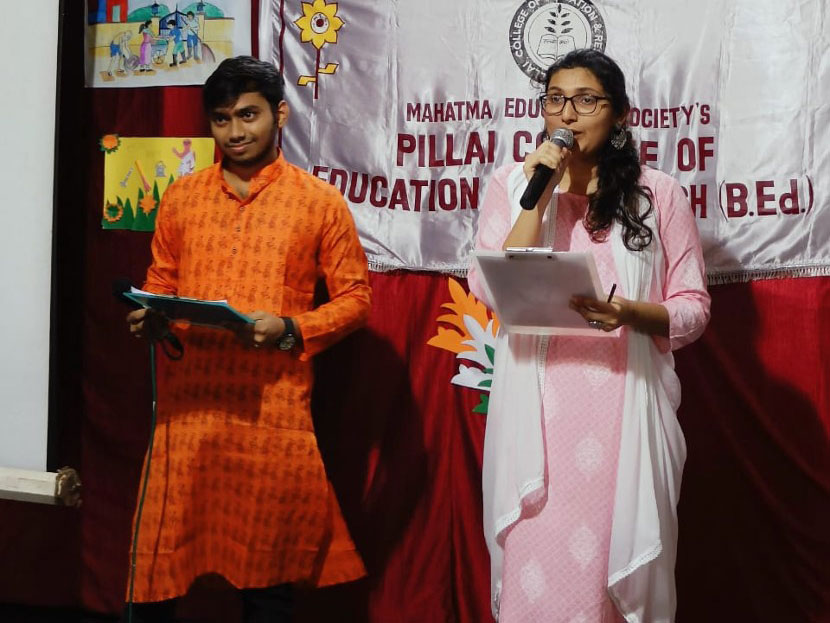 The melodious singing of 'Bande Mein Tha Dum' by Miss Shweta, Miss Preetha, Miss Aishwarya and Miss Asma brought in an air of patriotism and filled everyone with awe and admiration towards the deeds of Mahatma Gandhi. Professor Rajendra then delivered a heart warming talk on Gandhiji, inspiring everyone to walk their talk like Gandhiji. A video on Gandhiji prepared by Miss Riddhi Maru, Mr. Sujoy Mitra and Mr. Deepak Sharma further intensified the patriotism of the moment as the audience also reflected on its duty towards the country through the Swacch Bharat Abhiyan. Everyone was then fed an inspirational poem on Gandhi Jayanti by Miss Aasma which made our hearts swell with pride knowing that we had such a great person who belonged to our country.
The principal of PCER, Chembur Dr.Reni Francis captivated the hearts of everyone as she emphasised on the teachings of Gandhiji to be brave and bold and face the challenges that come across our way. She also highlighted the Mahatma's quality of humility and his desire for unity and encouraged us all to be humble in our dealings with people and cultivate unity in our midst. Ms. Alia proposed vote of thanks.