Center of Education, Indian Institute of Teacher Education, Gandhinagar in collaboration with MES's PCER, Chembur organised a National Level Live Webinar titled 'NEP 2020 – Vision for a prospective Nation' on 8th September, 2020. There were 415 registered participants who viewed the live program. The session was in alignment with Sustainable Goal 4: Quality Education.
Dr. Reni Francis, Principal, PCER, Chembur, Mumbai, addressed and welcomed all the audience with a meaningful message on how NEP 2020 would bring a revolution in the field of education.
There were five eminent speakers touching on different aspects of NEP-2020.The first speaker, Dr. Kalpesh H Pathak, Principal & Director, Center of Education, IITE, Gandhinagar, Gujarat highlighted his perspectives of NEP-2020 from the point of teacher education. Not just changes in TET and BEd courses, NEP also suggests policies for teachers who have already been hired including mandatory courses, setting up of national professional standards, no transfer policy and digital management of hiring and vacancies in schools across the country.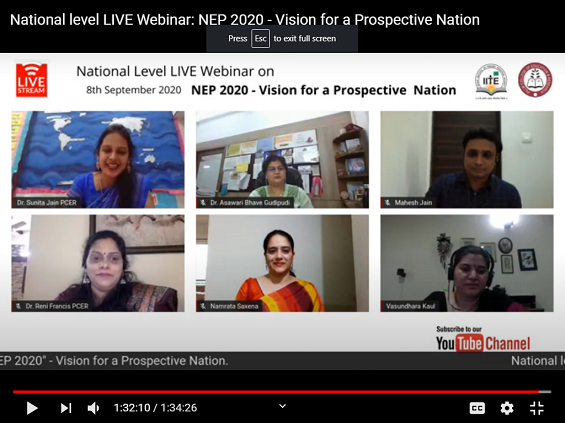 The second speaker, Dr. Asawari Bhave, Dean-Faculty of Humanities & Social Sciences, Head-School of Education & Research as well as PhD Chief Coordinator, Research Cell, MIT Art, Design & Technology University, Pune, spoke on how NEP 2020 will transform higher education. The biggest highlights of the NEP 2020 are, 1) A single regulator for higher education institutions, 2) Multiple entry and exit options in degree courses, 3) Discontinuation of M.Phil. programmes, 4) Low stakes board exams and 5) Common entrance exams for universities.
The third speaker, Mr. Mahesh Jain, Grade Lead at The Somaiya School, Mumbai stressed on reforms the NEP has brought up at Primary and Secondary level of education which includes The 5+3+3+4 system, teaching up to class five in mother tongue or regional language, lowering the stakes of board exams etc
The fourth speaker, Ms. Namarata Saxena, Program Director for early years and curriculum head at Mahatma Education Society, Navi Mumbai gave her perspectives on the New Education Policy and Early Childhood Care and Education (ECCE). ECCE will be delivered through a) standalone Anganwadis; b) Anganwadis co-located with primary schools; c) pre-primary schools/sections covering at least age 5 to 6 years co-located with existing primary schools; and d) stand-alone pre-schools – all of which would recruit workers/teachers specially trained in the curriculum and pedagogy of ECCE.
The final speaker, Ms. Vasundhara Kaul, with 13+ years of rich experience covering work experience across the banking sector, higher education institutions , schools and NGOs across various geographies (India & UAE – Dubai, Sharjah & Abu Dhabi) highlighted perspectives about NEP 2020 from a psychological point of view. She gave real life examples to share how it is and will help in developing a healthy psyche upon students, teaching fraternity as well as parents.
The audiences applauded after each talk and raised a few healthy queries to the experts through youtube chat forum. This initiated a lot more discussion. The above sesion can be watched by clicking the below link: